See also: Technical Specifications & Technical Specifications Documents.
The "metadata" or "instrument response files" complement the raw waveform data, providing the information that seismologists use for data processing, including:
gains, overall sensitivity, poles, zeros and filters needed to deconvolve the data and arrive at true ground motion
latitude, longitude, elevation (which are obfuscated to ~1 km to protect user's identities)
instrument type
any and all changes over time (since May, 2019)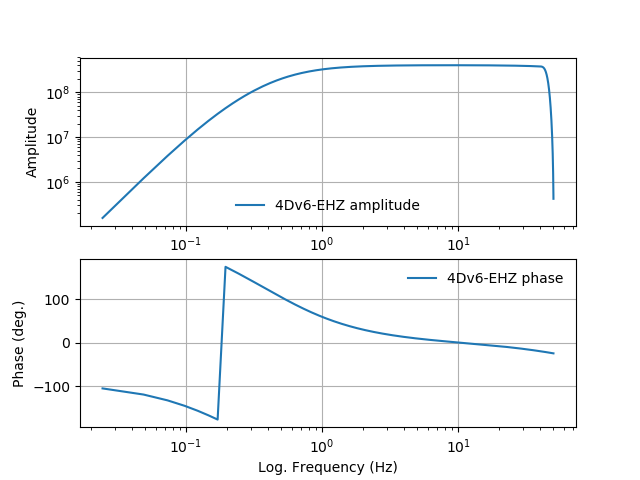 For a third-party look at the RS4D's self-noise and to get a better idea of what kind of seismic activity you can record with Raspberry Shake, see the USGS's peer-reviewed article and YouTube video:
Anthony, R.E.; Ringler, A.T.; Wilson, D.C.; Wolin, E. (2018) Do Low-Cost Seismographs Perform Well Enough for Your Network? An Overview of Laboratory Tests and Field Observations of the OSOP Raspberry Shake 4D. Seismological Research Letters.
Source: IRIS, relevant time: 12:08 to 16:55
For additional third-party studies, see: Independent Reviews
In an effort to ease the pain (every seismologist out there knows what we mean by that), we have automated the generation and maintenance of metadata for those Raspberry Shakes that have the Data forwarding option enabled (this now includes the automated opening and closing of Epochs within the response triggered by changes in latitude, longitude, elevation, instrument-type, etc.).
You can download the nominal instrument response file for your Raspberry Shake in XML format using stationView (Click on your station's triangle and scroll down to "Download instrument response"), FDSN Web Services (see "fdsnws-station"), or gempa GmbH's SMP Repository.
In the sections that follow you can download a nominal instrument response file for your Raspberry Shake in the following formats:
Modern seiscomp-xml format for use with SeisComP3 and SeisComPro
RESP for use with Earthworm (AQMS, Earlybird, Hydra), PQLX, SQLX, SEISAN
dataless SEED
Using your favorite text editor, replace all instances of 'STNNM' with the name of the station the metadata files will be used for.
The '<start>' field must also be replaced with the date on which the unit first started collecting data, replace all instances of YYYY-MM-DD accordingly.
In obspy versions 1.2.0 and up:
from obspy.clients.fdsn import Client
from obspy import UTCDateTime

rs = Client('RASPISHAKE')
start = UTCDateTime(2020, 1, 1, 0, 0, 0)
end = UTCDateTime(2020, 1, 1, 0, 30, 0)

stn = 'R0000'            # your station name
inv = rs.get_stations(network='AM', station=stn, level='RESP')

stream = rs.get_waveforms('AM', stn, '00', 'EHZ', start, end)
stream.attach_response(inv)

resp_removed = stream.remove_response()

In obspy versions before 1.2.0:
from obspy.clients.fdsn import Client
from obspy import UTCDateTime

rs = Client(base_url='https://fdsnws.raspberryshakedata.com/')
start = UTCDateTime(2020, 1, 1, 0, 0, 0)
end = UTCDateTime(2020, 1, 1, 0, 30, 0)

stn = 'R0000'            # your station name
inv = rs.get_stations(network='AM', station=stn, level='RESP')

stream = rs.get_waveforms('AM', stn, '00', 'EHZ', start, end)
stream.attach_response(inv)

resp_removed = stream.remove_response()

You can change the behavior of remove_response by adding the options described at:
https://docs.obspy.org/packages/autogen/obspy.core.trace.Trace.remove_response.html